Responsible tourism provides tourists with an opportunity to meet local people and experience their culture in a respectful way, spreads the benefits of tourism more widely, contributes to conservation efforts in destinations and minimises the negative environmental and cultural impacts of tourism. Tribal Voice provides consultancy services to tourism providers to develop Responsible Tourism policies for their businesses and to advise on how to make their operations more responsible. Tribal Voice also provides sales and marketing representation in the UK for responsibly run tourism businesses.
We also offer Youth Development Tours to both South Africa and Zambia that uphold 100% the principles of responsible tourism. All of our tours are tailor-made to meet the learning outcomes sought, and are suitable for groups of young people from the age of 15 years upwards from schools, colleges, universities, scout groups, Army Cadet units and those groups wishing to carry out the 'Expedition' and 'Residential' aspects of the Duke of Edinburgh Gold award.
To arrange a 'no obligation' meeting to discuss the needs of your group or to request a sample itinerary and quotation, please email cheryl@tribal-voice.co.uk
Our itineraries focus on:
The aim of our tours are to take young people on a journey of discovery, which will enrich not only their own lives but will make a difference to the lives of rural communities and the environment they visit.
Our 14 day Conservation & Wildlife Management Field Trips to both countries have been designed by academics to meet the specific curriculum needs of universities and further education colleges, and in South Africa we deliver this trip through African Insight, one of South Africa's most responsible tour operators.
OUR MISSION: Tribal Voice Communications works with UK travel companies, destination tourism suppliers, local communities, conservation organisations and development NGOs to help make tourism a force for positive change-minimising the negative impacts of tourism on the environment, wildlife and local culture and harnessing the benefits to help conserve natural resources and improve the livelihoods of local communities in tourism destinations.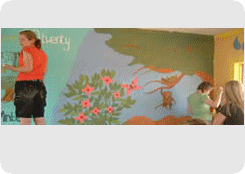 For further information contact Senior Consultant Dr Cheryl Mvula
Tribal Voice Communications Ltd. Company Registration No. 5578749
Maasai photos © Georgina Cranston